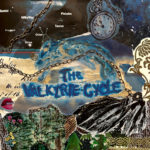 Meet the students of Thornridge High, both magic and mysterious, as they enter the season of prom-proposals, extravagant end-of-year parties, and a prophecy that inches ever closer.
Content warnings: Description of patricide, internalized homophobia, and religious trauma [9:50-16:36]. Brief description of miming self-harm [1:23:04]. Allusions to death of family members [1:53:24-1:55:50]. Homophobia [2:00:14-2:01:06]. Magical hypnotism with audio distortion [2:13:00-2:13:18 and 2:18:00-2:18:53]. Reference to sexual situations [2:41:35]. Descriptions of characters eating food throughout.
Website: https://midnightceremoniesmedia.com/
Twitter: ​​https://mobile.twitter.com/midnightcmedia
Instagram: https://www.instagram.com/midnightcmedia/
Facebook: https://www.facebook.com/people/Midnight-Ceremonies-Media/100085917174104/
TikTok: https://www.tiktok.com/@midnightceremoniesmedia
YouTube: https://www.youtube.com/channel/UCX6R00hi8FvjH7nRKBYLjTg
Tumblr: https://midnightcmedia.tumblr.com/
If you're tweeting or posting about the show online, please use #TheValkyrieCycle or #TVCspoilers to tag your content, and to help us see anything you'd like to share with us.