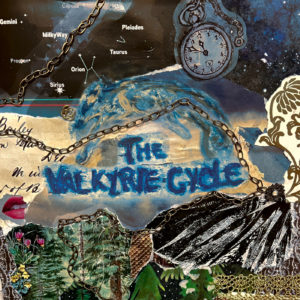 What if the worst people you knew in high school were tasked with saving the world?
This is the Valkyrie Cycle: a Monsterhearts 2 actual play podcast about the messy lives of even messier teenagers, whose monstrosity is as inevitable as their destiny. Our setting is the small town of Thornridge, Washington, where monsters are as likely to lurk in the forest as the hallways of the high school, and apocalyptic mythology threatens to become an ugly reality. As an unnaturally long winter casts an icy shadow over the upcoming prom, something more dangerous prowls at the edges of Thornridge, waiting for its chance to strike… The Valkyrie Cycle is a story about queerness, family, the chains that hold us back, and what happens when we break them.
The Valkyrie Cycle uses the TTRPG system Monsterhearts 2 by Avery Alder. The season is MCed by Catherine Rohret.
The cast of The Valkyrie Cycle includes: Percival Walter as Lucien Astor, Quin Borozin as Eden Grace, Arcadia Reeves as Cassie Rodriguez, Casey Fleming as Mackenzie "Starfyre" Miller, Karina Revilla as Cesar Rodriguez-Reyes, Victoria Nielsen as Silvia Strisciante, and Saffron Hefta-Gaub as Stephanie Chaplin.
The Valkyrie Cycle is co-directed by Catherine Rohret and Saffron Hefta-Gaub, and produced by Casey Fleming. This season's editing team includes Catherine Rohret, Karina Revilla, Casey Fleming, Zola Hefta-Gaub, and Saffron Hefta-Gaub. Character and episode art is created by Arcadia Reeves, with support from Catherine Rohret. Our social media is run by Fabiola Liaño.
The main theme for TVC was composed by Haley Adams, with additional in-episode music by Quin Borozin and Haley Adams. Sound effects were adapted and sourced under the Creative Commons Attribution License.
Season art by Saffron Hefta-Gaub